Whether its an Inboard or an Outboard, your boat engine is a key component to your pride and joy.
The last thing that any boat owner wants is this component to fail, ruining your day out or holiday with your family. We believe regular routine servicing and maintenance of your Inboard or Outboard motor can greatly reduce the likelihood of this occurring.
Outboard Service
Whether it's a 2 or 4 stroke , carbureted or electronic fuel injection, 2.5hp back up engine or twin 250hp main engines. Here at Riptide Marine we have you covered with a complete boat maintenance service. Along with the regular routine servicing of your outboard engine we can also offer ultrasonic carburetor and injector cleaning, carb balancing and tuning. Outboard engines can be service out the water, either on the boat, or small outboards can be taken to our workshop for servicing, repairs and even winter storage.
Inboard Service
Petrol or Diesel, single cylinder all the way up to V8 and beyond. Again here at Riptide we have you covered. Inboard engines in most cases can be serviced on or off the water.
We will always adhere to manufactures maintenance guidelines for both your Outboard engine service or Inboard service. We will always recommend genuine parts first, however if requested we can install aftermarket parts.
Remember your Inboard service or Outboard motor service is not always just an "oil and filter change" there are many other components to check, adjust, inspect and lubricate. All engines are always run up to temperature and visually inspected before servicing and then run up again post engine service.
Any observations or recommendations found during your boat engine service will be noted and flagged for the owners attention. All these will help to prevent the risk of costly repair bills, catastrophic failure and breakdowns.
So don't hesitate and book your boat engine service today!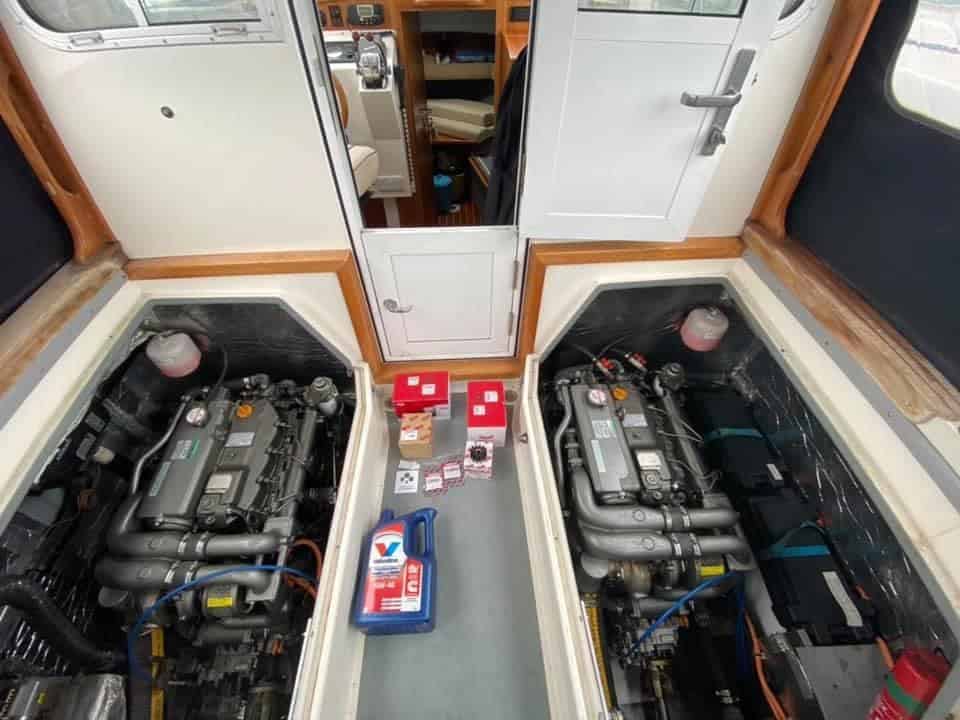 Frequently Asked Questions
How often should I have my boat engine serviced?
You should always have your boat engine serviced annually or after the manufacturers recommended amount of hours, usually 100 – 200hrs, which ever occurs first. Just because you haven't done very many hours in the year doesn't mean you should skip your annual service. Marine environments can be harsh and sometimes an underused engine can require as much or more looking after than a heavily used one.
How much will it cost to have my boat engine serviced?
Manufacture, age, condition, hours covered and type of engine all need to be taken into account when deciding on the level of engine service you require. And therefore the cost varies along with this, so it is always best to get in touch with us and we can get all the information required to give an accurate estimate of the cost.
Still got questions? We've got answers! Get in touch and we'll be happy to help.
"Riptide marine is professional and comes highly recommended! Reasonable prices and excellent service. Today I returned my outboard following a service and winterise by Kyle several months ago, when it wouldn't start. I had inadvertently put poor quality fuel in it which caused the issue. He flushed out the old fuel and put some new in all free of charge! You can't ask for more than that!"